Summer is coming and the weather is warming up, so it's time to really get your riding skills honed so you can get the most from your riding. We know you have all expressed interest in attending the "Introduction to Advanced Riding" course, so here is are a couple of extra incentive to get it booked:
• Find a buddy and book the course together for a whopping £100 discount each from the standard price! That makes it just £199 each!!
• Find a buddy and learn the secrets of Advanced Riding together!
Remember, this course covers:
• What is "Advanced Riding"?
• The System of Motorcycle Control
• Effective Observation
• Positioning
• Cornering
• Speed & Gears
• Overtaking & Filtering
• Motorways and much, much more!
Now if that's not enough of an incentive to find a buddy and get the course booked, here's a couple more:
• The course covers the requirements of the DSA's "Enhanced Rider Scheme" (ERS)
• At the end of the course you will receive a written report on your riding AND an ERS Certificate of Riding Competence, which entitles you to an insurance discount with participating companies!
• You also get a FREE copy of "Motorcycle Roadcraft: The Police Rider's Handbook" which is the Advanced Riding bible!
Finally, to make this even more attractive, we are now offering FLEXIBLE DATES!
The next course will run late May / early June. As soon as we have 4 confirmed names and payment, when we will liaise with you to agree 2 suitable evenings for the classroom sessions and a suitable day (Saturday or Sunday) for the road-riding day.
So, what are you waiting for?
Get on Facebook or use the Motorcycle Training Forum or this email to Find a Buddy and get your place booked!
Paul Beattie, RoSPA (Dip), RJH Advanced Riding Instructor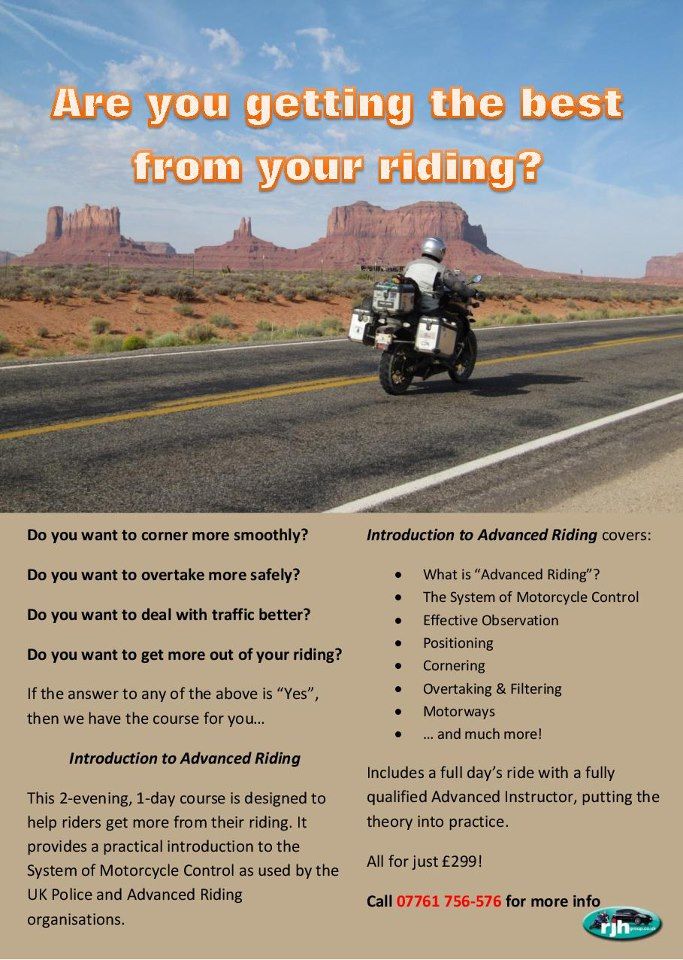 Posts: 526
Joined: Sat Jul 14, 2012 4:52 pm
Location: Manchester